GATHER & GROW
Dear Grace Community Family:
The Finance Team has put together an exciting new stewardship series, Gather & Grow, in which we will participate over the next few weeks. During this time, we'll give praise to God for all the ways we have been blessed and provided for, and we will look at how we will do the work of the Kingdom in the future.
The focus for Gather & Grow is the stewarding of our finances, and how we can come together to further the mission here at Grace Community: to create a community where all people can experience God's transforming grace. This is why we do what we do…and the gifts God has given us to manage make it possible.
Enclosed with this letter are several items for you to review and reflect upon.
They include:
Our Gather & Grow Guide, which outlines an approach to giving and describes the many ways you can give.
The 2023 Annual Giving Commitment Card
A Sample Family Budget Planning Guide, which offers a suggested way to create a budget to include your annual stewardship giving.
The 2023 Grace Community UMC Budget Overview – We want to be 100% transparent about our budget and how monies are allocated and spent. If you have any questions, please see a member of our Finance Team.
We want to thank you for all you do and how you give back to God. We look forward to making this journey together.
Growing Together in Christ,
Keith Todd, Finance Chair
Eric Zimmerman, Church Treasurer
Rev. Tracie Ashley, Pastor
GIVING GUIDE
1 - BEGIN WITH PRAYER
Thank God for blessing you and ask for guidance and discernment in how you can give back to God.
2 - ASSESS YOUR INCOME AND GIVING
Take a look at your annual income and your current giving as a percentage of your income. Examples are found in the "Sample Budget Planning Guide" below.
3 - GATHER & GROW IN YOUR COMMITMENT
Determine how you Gather & Grow in 2023 when you complete your Commitment Card.
4 - COMPLETE YOUR COMMITMENT CARD
Complete a printed commitment card and bring it to worship on March 5th OR complete a digital commitment card prior to March 5th.
5 - WORSHIP WITH GRATITUDE
On Sunday, March 5th we will gather, give thanks to God, and turn in our commitment cards as an act of worship.
WAYS TO GIVE
IN WORSHIP - Give by cash or check in the offering basket each week in worship.
ONLINE - Grace Community offers a simple and secure way for you to give to the church electronically. Go to mygraceumc.com/give and follow the simple prompts to give online from your computer or mobile device. You can even set up a recurring gift, then your gifts are given regularly, even when you are out of town. If you choose to give online, please consider using your bank account info as an Electronic Funds Transfer (EFT), as it is the most cost-effective method for the church.
TEXT - Your tithes and offerings can be given by texting the amount to 84321. For example, text 100 to 84321 and you will give $100. The first time you use this, there are a few things to set up, but then it is a very quick and easy way to give.
MAIL - Your gifts may be mailed to: PO Box 971 • Lithia, FL 33547
ALTERNATIVE METHODS & LEGACY GIVING - Appreciated Stock, Qualified Charitable Distributions, Required Minimum Distributions, and Estate Planning are also giving options. Contact the Church Office to learn more about these tax-saving ways to give.
2023 ANNUAL GIVING COMMITMENT CARD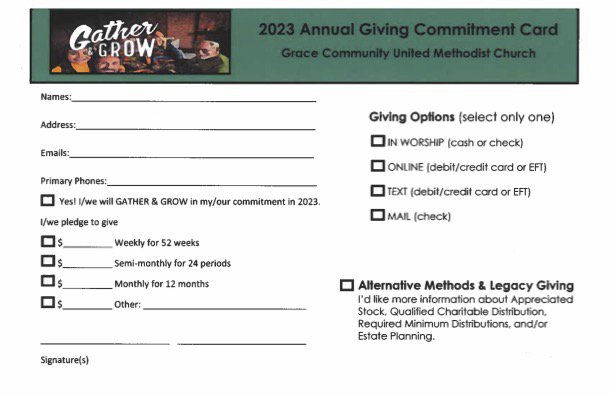 SAMPLE FAMILY BUDGET PLANNING GUIDE